A FELINE TWIST ON HISS-TORY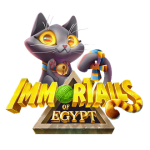 A feline twist on hiss-tory
Regal. Aloof. Mystical. There's a reason hiss-tory says that the Ancient Egyptians used to worship cats.
Bastet, Mafdet and Sekhmet may be cute, but they are equally mischievous. Each has been bestowed the fortunes and can harness the powers of the ancestors – which are actually the Ancient Egyptian deities that they're named after, pretty paw-some right?
No adventure is complete without an arch-enemy, the slippery serpent Apep is on a mission to steal their treasures. We have a feeling the gods might have something to say about that…
Symbol transformations, Expanding Wilds and a quirky theme see a new and exciting addition with a feline twist on ancient history.
Bastet, Sekhmet, and Mafdet sit at the top of the grid with meters above them so players can clearly see their progress and how many of the kittens they are about to have transformed into Expanding Wilds.
There is the opportunity to have all five reels covered by Expanding Wilds maximizing the potential further.
The reels expand from 5×3 to 5×4 during the Free Spins and a Multiplier is applied which is designed as a locked treasure chest that bursts open when wins are achieved.
The way the kittens transform into big cats is an innovative way of tying features, theme, and narrative together as you can physically see the kittens harness the power of their ancestors on the grid.
The narrative of conflict between the snake and kittens plays out on the grid with humorous animated scuffles.
From kitten to Cat God, this game is simply purr-fiction.
BASTET, SEKHMET AND MAFDET
Charged as protectors of their ancestors' treasures, these cute kittens are more mischievous than you might think, it's pretty handy that they have nine lives to rely on!
Release Date – 27 Oct 2022
LIKE THIS? THEN YOU'LL LOVE...