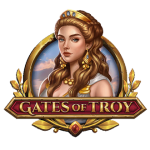 The game's story takes place ten years into the Trojan War.
An Ancient Greek battalion led by Achilles is tasked with breaking into the gates of Troy aboard a huge Trojan Horse and claim the city's treasures as their own.
It's not easy going to be easy though, the city has tough exterior defences.
Our Greek mythology-inspired saga continues…
Gates of Troy is a classic slot with recognizable characters and innovative features built around the game's narrative.
During the game, the player focuses on getting inside the gates to the Free Spins by landing three Scatters. During the Free Spins, Wilds that land is highlighted with a fiery frame and added back to the reels at the end, upping the potential.
The number of Free Spins is tracked by the Trojan Horse at the top of the reels. All the Wilds are added back to the reels at the tenth Free Spin.
Are you ready to join the battle?
ACHILLES
Achilles is a mighty warrior (and he knows it) with skills that rival his charisma. But will his heel get the better of him?
HELEN OF TROY
The rumoured daughter of Zeus, Helen of Troy, has been said to be the most beautiful woman to ever live.
SOLDIERS
The crème de la crème of fighters; Greek soldiers are trained to high standards. Armed with swords, shields, and a tough horse-shaped disguise, they don't mess around..
Release Date – 27 Oct 2022
LIKE THIS? THEN YOU'LL LOVE...